Kicker CK8 8 Gauge 2-Channel Amplifier Installation Kit
Kicker C Series CK8 Car amplifier installation kit
Oxygen Free Copper Wires
Suitable for up to 1000 watts Amplifiers
Connection wires with zip ties
8 gauge kit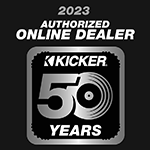 Kicker, one of the most reliable names in producing high performance car and vehicle audio solutions, has introduced the Kicker C Series CK8 Car Amplifier Installation Kit.
This 8 Gauge 2-Channel Amplifier kit meets the American Wire Gauge Specifications and ensures all safety requirements are met. It is a high-performance power and ground wiring kit designed specifically to deliver the big power you want from your amplifier. The Amplifier kit is highly durable and built to withstand high wattage systems. Adequate length of wires makes it a hassle free installation. All the wires are made from OFC (Oxygen Free Copper) in order to maximize on signal transfer and minimize interference.
Unit Includes: 2-Channel Amplifier Installation Kit and Instructions manual
Kicker CK8 8 Gauge 2-Channel Amplifier Installation Kit
Features
Kicker C Series CK8 Car amplifier installation kit
Oxygen Free Copper Wires to maximize signal transfer
Built with strong high wattage systems, suitable for up to 1000 watts Amplifiers
Connection wires with zip ties
8 gauge 2-Channel Amp Kit
Included Cabling
Hyper-Flex power ground and turn-on cables
K Series speaker wire and interconnects
8 Gauge power cable measuring 17 feet
8 Gauge ground cable measuring 2 feet
16 Gauge turn on lead wire measuring 17 feet
2-channel twisted pair patch cable measuring 17 feet
16 gauge speaker wire measuring 40 feet
60 AMP fuse with Heavy Duty AFS fuse holder
Insulated crimp connectors, terminals and zip ties
Warranty Duration
Basic Warranty: 1-Year
More Information

| | |
| --- | --- |
| Manufacturer | Kicker |
| Part Number | CK8 |
| Amplifier capabilities | 1 amplifier |
| RCA cables included | 2 Channel Cables |
| Speaker Wire Included | Speaker wire included |
| Wire Size | 8 Gauge |
| Warranty | 1 Year |
| California Proposition 65 | |
| UPC Code | 713034065203 |
| Return period | 30 days |
| Exchange period | 30 days |
Car amplifier installation
We show you the complete process of installing a Pioneer Double DIN car stereo in a Chevy truck. The in-depth video shows the installation of the interface, and steering wheel control.
Amplifier Installation basics
Let's start with the basics of adding or installing a car amplifier. First you will need to plan your installation and power wiring, this usually is the most difficult part of the installation for most.
How to choose the proper wire size explained
What size power wire do I need for my amplifier? Well, that depends on the length of the wire and the power consumption of the amplifier. We walk you through how to choose the right gauge wire and wire material depending on your amplifier installation requirements.
How to wire speakers and subwoofers to your new amplifier
In our third video we demonstrate the various ways you can wire speakers and amplifiers to all types of amplifiers. There different ways to do this depending on the type of amplifier you choose to purchase.
What is gain? How do I set it properly?
In our fourth video we demonstrate how to set the gains on your amplifier to prevent damage to your speakers, subwoofers and even possibly your new amplifier. Using a portable oscilloscope we show you how to set your gains.
We found other products you might like!