Kicker 43DXA1252 Class D 2 Channel Amplifier - 120W RMS
DX Series 2 Channel Class D 120W RMS Amplifier
30 Watts RMS x 2 Channels @ 4 ohms
60 Watts RMS x 2 Channels @ 2 ohms
125 Watts RMS x 1 Channel @ 4 ohms (Bridged)
Frequency Response of 10Hz-20kHz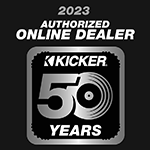 The Kicker DXA125.2 is a 2 channel car amplifier that is capable of producing high quality music, and delivers 30 watts x 2 Channel to each of the speakers in your car. This is delivered from a quite small yet compact unit that can be easily installed anywhere within your ride. Delivering more than 3 times the power that any other basic factory system is capable of, the kicker is capable of kicking some action into your otherwise dull journey. Adding excellent clarity and special punch to the music that emanates from your system, the Kicker allows you to power your front speaker by using the front channels, and at the same time bridges the rear channels together to enhance the power from the subwoofer at 125 watts x 1 channel.
This 2 channel car amplifier is capable of producing 30 watts x 2 channel at 4 ohms, which is stable in bridged mode. This CEA-2006 compliant piece of equipment comes with variable high and low pass filters ranging from 50 to 200 Hz at 12 decibels/octave, and variable bass boost that produces blasting music ranging from 0 to 12 decibels at 40 Hz. The differential-balanced inputs ensure that noise due to your ride's electrical system is totally eliminated, giving you clean, uninterrupted music. Also featuring Fail-Safe Integration FIT™ technology, and advanced circuitry that ensure superior power and clarity. The amplifier comes with Class D technology.
Unit includes: Car Amplifier, Mounting hardware, and Instruction manual
Kicker DXA125.2 Class D 2 Channel Amplifier - 120W RMS
Features:
DXA125.2, DX Series 2 Channel Class D 120W RMS Amplifier
RMS operation @ 4 ohms delivers 30 watts x 2 Channel
RMS operation @ 2 ohms delivering 60 watts x 2 Channel
Bridged Mono operation @ 4 ohms delivering 125 watts x 1 Channel
Remote bass with CXRC Capable - Sold Seperately
Frequency Response of 10Hz-20kHz
12dB/octave Variable 50 - 200 Hz Selectable High Pass & Low Pass Crossover
Signal to Noise Ratio, RE: Rated Power, A-Weighted, >95dB
Variable 50-200Hz @ 12dB/Octave HI, LO or OFF Crossover
KickEQ™ Bass Boost Variable 0-12dB @ 40Hz
RMS Power Output:
30 watts x 2 Channel RMS Power @ 4 Ohms
60 watts x 2 Channel RMS Power 2 Ohms
125 watts x 1 Channel Bridged RMS Power 4 Ohms Mono
Inputs and Outputs:
125mV-5V Low Level Input
250mV-10V High Level Input
Dimensions:
2.35" H x 7.08" W x 8.26" L
Warranty Duration:
Basic Warranty: 1 year
More Information

| | |
| --- | --- |
| Manufacturer | Kicker |
| Part Number | 43DXA125.2 |
| Amplifier Topology Class | Class D |
| Number of Channels | 2 Channel |
| Amplifier Bridging | Bridgable @ 4 ohms |
| Minimum Impedance in Un-Bridged Mode | 2 ohm |
| Strappable Amplifier | No |
| RCA Pre-amp Audio inputs | 1 Pair |
| Preamp voltage | 150 mV - 12 V |
| Speaker level inputs | No |
| Gain Control | Yes |
| Bass Knob / Remote Gain | No |
| Built in Crossover | High-pass, Low-pass |
| Cooling Fan | No |
| Color | Black |
| Warranty | 1 Year |
| Recommended Power Wire Gauge | 8 Gauge |
| CEA2006 Compliant | No |
| UPC Code | 713034078715 |
| Return period | 30 days |
| Exchange period | 30 days |
Car amplifier installation
We show you the complete process of installing a Pioneer Double DIN car stereo in a Chevy truck. The in-depth video shows the installation of the interface, and steering wheel control.
Amplifier Installation basics
Let's start with the basics of adding or installing a car amplifier. First you will need to plan your installation and power wiring, this usually is the most difficult part of the installation for most.
How to choose the proper wire size explained
What size power wire do I need for my amplifier? Well, that depends on the length of the wire and the power consumption of the amplifier. We walk you through how to choose the right gauge wire and wire material depending on your amplifier installation requirements.
How to wire speakers and subwoofers to your new amplifier
In our third video we demonstrate the various ways you can wire speakers and amplifiers to all types of amplifiers. There different ways to do this depending on the type of amplifier you choose to purchase.
What is gain? How do I set it properly?
In our fourth video we demonstrate how to set the gains on your amplifier to prevent damage to your speakers, subwoofers and even possibly your new amplifier. Using a portable oscilloscope we show you how to set your gains.