DISCONTINUED - Kicker 40KX800.1 800 Watt RMS Monoblock Class D Car Amplifier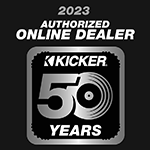 Unit includes: Car Amplifier, Mounting hardware, and Instruction manual
More Power
KICKER's KX-Series Mono Subwoofer Amps out perform and provide more power than any other amplifier they make. Boost-converter technology allows KX amps to achieve a typical efficiency near 80 percent, significantly beyond standard amp power supplies.
KICKER Tech
KICKER's CX-Series Amplifiers are full of advanced technoglogy. Under the high-mass, super-cooling heat sink, these amps feature double-sided fiberglass circuit boards, Litz-wound transformers that minimize power loss and maximize transfer, TO218 output devices for high-current switching, buffered RCA outputs, noise-shielding metal-end panels, and custom tooled power connectors.
Compact Size
With the largest model, the 2400.1, measuring at only 15-1.2 inches in length, KX Amplifiers set the curve for smaller chassis footprints.KICKER amps feature an optimized circuit layout for the most efficient use of components, the smallest footprint and clearest sound quality.
Kicker KX800.1 800 Watt RMS Monoblock Class D Car Amplifier:



Features:

KX-Series 800 Watt RMS Monoblock Car Amplifier
Preamp RCA outputs to connect multiple amps
MOSFET power supply for large power output
Variable Kick EQ+ Bass Boost (0-18 dB Selectable 20-80 Hz, Variable Q: 1-5)
Wired remote bass level control included
Selectable boost frequency from 20-80 Hz gives you control of the boosted frequency
LED power (green) and protect (red) indicators
Equipped with FIT (Fail-Safe Integration Technology) to accept output from virtually any source
FIT (Fail-Safe Integration Technology) lab-grade, balanced differential inputs offer best possible noise rejection
Double-sided fiberglass circuit board
Dual speaker terminals simplify the hookup of multiple speakers
Heavy duty high-mass aluminum alloy heat-sink
Built-in crossovers and adjustable KickEQ for dialing it in
Angled custom-tooled power connectors
DC offset or 12v remote auto turn-on modes
Stylish magnetic panels cover controls and glass-fiber composite end panels
Nickel-plated screw terminals
CEA-2006 compliant amplifier
4 gauge power and ground wiring is recommended for installation



Inputs and Outputs:

Single-channel operation
Nickel-plated RCA level inputs and outputs
Input Sensitivity Low level: 125mV-5V
Input Sensitivity High level: 250mV-10V



Max Power Output:

Total Power Output: 1,600 Watts



RMS Power Output:

4-Ohms: 400 Watts x 1
2-Ohms: 800 Watts x 1


Built in Crossover:

Frequency Response: 10-160Hz
Variable Low-Pass Filter: 40-160Hz, 24 dB/octave
Subsonic Filter: 10-80Hz, 24 dB/octave
Bass Boost: Parametric 20-80Hz; Variable Q: 1 to 5; Variable Boost, 0-18dB


Dimensions:

Overall Dimensions: 2-1/8" (H) x 9-9/16" (L) x 8-5/16" (W)
More Information

| | |
| --- | --- |
| Manufacturer | Kicker |
| Part Number | KX800.1 |
| Amplifier Topology Class | Class D |
| Number of Channels | 1 Channel |
| Amplifier Bridging | Bridgable @ 4 ohms |
| Minimum Impedance in Bridged Mode | 4 ohm |
| Minimum Impedance in Un-Bridged Mode | 2 ohm |
| Strappable Amplifier | No |
| RCA Pre-amp Audio outputs | 1 Pair |
| Preamp voltage | 4 volts |
| Speaker level inputs | Yes |
| Gain Control | Yes |
| Bass Knob / Remote Gain | Optional |
| Built in Crossover | High-pass, Low-pass |
| Cooling Fan | No |
| Color | Silver |
| Warranty | 1 Year |
| CEA2006 Compliant | No |
| UPC Code | 713034065807 |
| Return period | 30 days |
| Exchange period | 30 days |