Kicker PXiBT1002 200 Watt 2-Channel Class D Amplifier / Controller
Add an audio system without a radio or headunit
Two-channel 200 Watt RMS amplifier
50 watts RMS x 2 Channels at 2 ohms
Bluetooth enabled remote control keypad controls the amplifier
Back-lit buttons
Conformal coated circuit board suitable for marine, ATV, side-by-side and motorcycles
3.5mm headphone jack low level input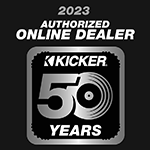 Unit includes: Remote control, Mounting hardware, Amplifier and controller, Flush mount cup, Handlebar mounts, and Instruction manual
KICKER Sound without a radio!
Now you can have a complete audio system without a radio using the PXiRCX remote. The remote will control the PX-Series amplified controllers, the controllers have built in Bluetooth allowing you to audio directly to the amplifier. The PXiRCX remote allows you to control volume, power, source selection, shuffle, track up and track down, playlist up and playlist down. The control remote is perfect for motorcycles, sand rails or side-by-sides where space is limited but where tunes are absolutely necessary!
KICKER Tech
KICKER® PX-Series Amplifiers are full of advanced technology. PX Amplifiers are specially designed to deliver tremendous power in a tiny, weatherproof footprint, all while requiring minimal power from your charging system. Their compact size and efficiency make them perfect for sand-rails, motorcycles, and even jet ski's! With auto turn-on options, built-in crossovers and flexible input styles, KICKER® amps give you the custom sound you need.
Unbelievable power in a tiny package!
PX Amplifiers are no strangers to the KICKER® tradition of compact size. With as much as 200 watts of power, the only thing small about these amps is their footprint. Made to fit nearly anywhere, these miniature power plants start at under five inches in total width.
Whether it's a a car, side-by-sides, motorcycle, or personal water-craft a small amplifier is what you want, but good is it without weatherproofing. The PX-Series amplifiers feature a weatherproof wiring harness, moisture-resistant circuit board and aluminum casing.

Kicker PXiBT1002 Remote Control



Features:

PXi Remote Control controls PX Series Amplified controllers
Water resistant for use on watercrafts, quads, motorcycles and more
Compatible with Kicker PXi100.2 amplifier that is ideal for motorcycles and other vehicles where conventional amplifiers will not fit
Multiple controllers can be chained together for zone control
Surface mount adds to the flexibility for the PXi50's included remote
Includes 30 foot cable and Y-connector to control more than one amplifier
Back-lit buttons with elegant blue color for easy viewing at night
3.5mm audio input for direct audio connection

Inputs and Outputs:
1 - 3.5mm headphone jack low level input (500 - 1.75 mV)
1 - 12 volt illumination trigger
1 - 3.5mm control output

Dimensions:
Overall Dimensions: 1-3/16" (H) x 1-13/16" (L) x 3-11/16" (W)





Kicker PXiBT1002 200 Watt 2-Channel Class D Car Amplifier



Amplifier Features:

PX Series 200 Watt RMS Two-Channel Class D Amplifier
Built in Bluetooth for audio streaming from phone
A2DP Bluetooth connection allows music source to play wirelessly when connected via bluetooth
5-volt 1 amp USB charging port
3.5mm headphone jack low level input
Conformal coated circuit board suitable for marine or ATV applications
Amplifier is ideal for motorcycles and other vehicles where conventional amplifiers will not fit
3-way protection circuitry (thermal, overload, and speaker short protection)
Heavy duty aluminum alloy heat-sink
Two turn on modes: DC-offset signal sense turn-on for easy integration to factory audio systems and conventional 12 volt trigger
CEA-2006 compliant amplifier
Includes 10 gauge power and ground wiring for installation
Frequency Response: 20Hz to 20kHz +/- 1.0dB
Signal to noise ratio: 95 dB

Inputs and Outputs:
1 - 3.5mm headphone jack high or low level input
1 - 5-volt 1 amp USB charging port
Input Sensitivity Low level: 125mV - 5V
Input Sensitivity High level: 250mV - 10V

Max Power Output:
Total Power Output: 200 Watts

RMS Power Output:
4-Ohms: 25 Watts x 2
2-Ohms: 50 Watts x 2
1-Ohms: 100 Watts x 2

Built in Crossover:
Selectable high pass: 60Hz / 80HZ / 120Hz (24dB/octave)

Dimensions:
Overall Dimensions: 1-5/8" (H) x 7" (L) x 3-7/16" (W)

Current consumption:
Recommended Fuse: 25 amp
More Information

| | |
| --- | --- |
| Manufacturer | Kicker |
| Part Number | 42PXiBT1002 |
| Amplifier Topology Class | Class D |
| Number of Channels | 2 Channel |
| Amplifier Bridging | Not Bridgable |
| Minimum Impedance in Un-Bridged Mode | 1 ohm |
| Strappable Amplifier | No |
| RCA Pre-amp Audio outputs | 1 Pair |
| Preamp voltage | 150 mV - 10 V |
| Speaker level inputs | No |
| Gain Control | No |
| Bass Knob / Remote Gain | Yes |
| Built in Crossover | High-pass |
| Cooling Fan | No |
| Color | Black |
| Warranty | 2 Years |
| CEA2006 Compliant | No |
| UPC Code | 713034073871 |
| Return period | 30 days |
| Exchange period | 30 days |
Car amplifier installation
We show you the complete process of installing a Pioneer Double DIN car stereo in a Chevy truck. The in-depth video shows the installation of the interface, and steering wheel control.
Amplifier Installation basics
Let's start with the basics of adding or installing a car amplifier. First you will need to plan your installation and power wiring, this usually is the most difficult part of the installation for most.
How to choose the proper wire size explained
What size power wire do I need for my amplifier? Well, that depends on the length of the wire and the power consumption of the amplifier. We walk you through how to choose the right gauge wire and wire material depending on your amplifier installation requirements.
How to wire speakers and subwoofers to your new amplifier
In our third video we demonstrate the various ways you can wire speakers and amplifiers to all types of amplifiers. There different ways to do this depending on the type of amplifier you choose to purchase.
What is gain? How do I set it properly?
In our fourth video we demonstrate how to set the gains on your amplifier to prevent damage to your speakers, subwoofers and even possibly your new amplifier. Using a portable oscilloscope we show you how to set your gains.