Kicker 44L7S102 Solo-Baric 1,200 Watt 10 inch Square Subwoofer - Dual 2 Ohm Voice Coil
10" L7S Solo-Baric Series subwoofer with dual 2 Ohm voice-coils
Injection molded SoloKon cone woofer which adds rigidity and accurate response
Ultra ridged cast aluminum basket
Vented pole piece
Poly-cotton semi-progressive spider with woven tinsel leads
2.5 inch dual voice coil for high temperature and power handling
Unit includes: Car subwoofer driver , Kicker decals, and Instruction manual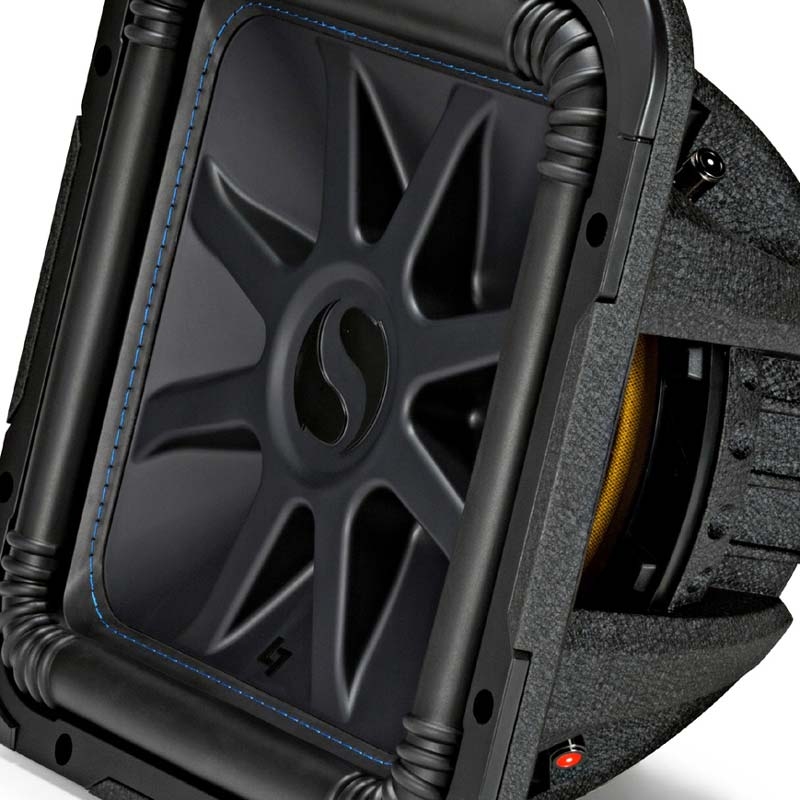 More Bass: 18% more cone area
Kicker has taken bass output to the next level and is best in class with the L7S 10 inch Solo-Baric woofers. The 10 inch square cone adds 18% more cone area compared to a 10 inch circular subwoofer, without increasing the enclosure requirement or the footprint. This increase in cone area gives you more bass output! The 44L7S102 has an ultra rigid injection molded square cone that Kicker invented. The cone is stiffer than ever with the ribbed corners that allow for extended cone movement with precision and accuracy. With the larger cone and added excursion this translates to Kickers motto, Livin' Loud.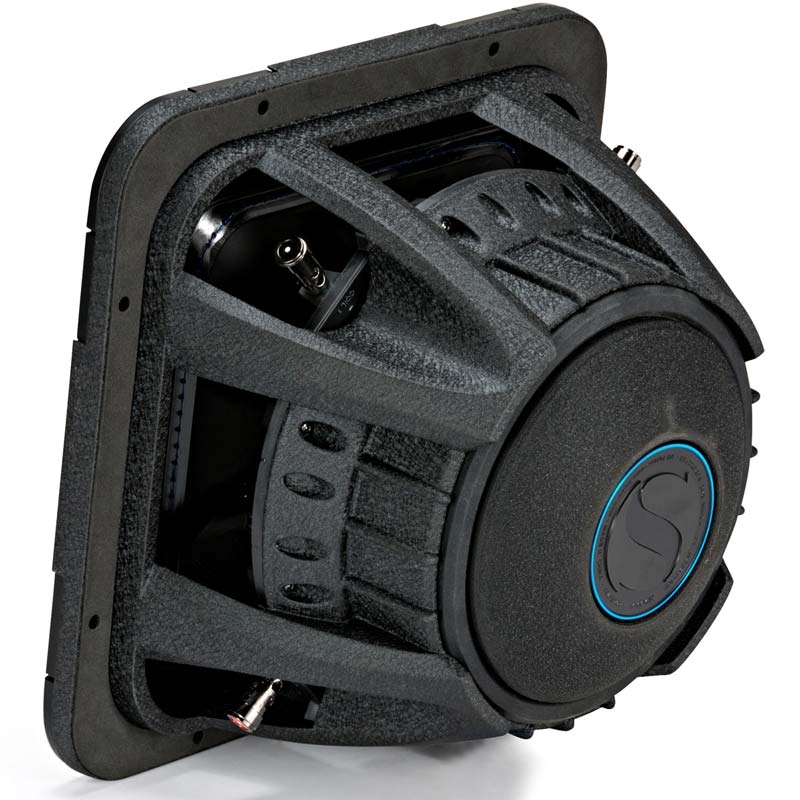 Large structure
To get the cone moving on the 44L7S102, Kicker has completely out done themselves with the unequaled motor structure. It has been designed using CAD and is optimized to integrate the largest aluminum voice coils to date. To add to the precision of the cone Kicker has added over-sized magnets; to prevent heat build up, Kicker has built the voice-coil with fins and heat sinks to prevent excessive heat. You can bang on these woofers and not fear them letting go.
More Power
To get the output you need power, huge power is required. To get that power into the subwoofer you need high-capacity terminals, Kicker has added 8 gauge inputs to the 44L7S102. To keep the installation clean, the power inputs are each corner and makes multiple wiring options easy and nice looking.
Kicker 44L7S102 Solo-Baric 10 inch Square Subwoofer - Dual 2 Ohm Voice Coil
Features:
10" L7S Solo-Baric Series subwoofer with dual 2 ohm voice-coils
Injection molded SoloKon cone woofer which adds rigidity and accurate response
Cone utilizes back bracing technology with built in voice-coil venting
Santoprene rubber surround for excellent control of woofer cone
Poly-cotton semi-progressive spider with woven tinsel leads
Highly-efficient UniPlate pole-piece and back plate for extreme excursion levels
Ultra ridged cast aluminum basket
High strength aluminum motor cover
Nickel plated spring compression terminal
2.5 inch dual voice coil for high temperature and power handling
Optimized for sealed and ported enclosures
Sold individually

Power Handling Max:
1,200 Watt maximum power handling

Power Handling RMS:
600 Watt nominal continuous power handling RMS

Quick Specs:
Impedance: 2 Ohm per coil
Frequency response: 24 Hz - 100 Hz
Sensitivity: 88.87 dB @ 1Watt / 1meter

Dimensions:
Mounting depth: 6-1/4 inches
Cutout diameter: 9-5/16 inches
Overall diameter: 10-11/16 inches
More Information

| | |
| --- | --- |
| Manufacturer | Kicker |
| Part Number | 44L7S102 |
| Driver Size | 10 inch |
| Subwoofer Shape | Square |
| Voice coils | Dual voice coil |
| Impedance (per voice coil) | 2 ohm |
| FS | 37.5 Hz |
| QES | 0.535 |
| QMS | 9.791 |
| QTS | 0.507 |
| RE | 7.9 ohm |
| VAS | 1.0 ft3 |
| Xmax (millimeters) | 16.25 mm |
| Sensitivity | 85.87 dB |
| Frequency Response | 24 Hz - 500 Hz |
| Sub enclosure type | Ported / Vented, Sealed |
| Power Handling RMS | 501 - 750 Watts |
| Power Handling Peak | 1,200 watts |
| Shallow Mount Subwoofer | No |
| Mounting Depth | 6.25 Inches |
| Cutout Dimensions | 9.31 Inches |
| Sealed Enclosure Recommended Size | 1.25 ft3 |
| Ported Enclosure Recommended Size | 2.25 ft3 |
| Color | Black |
| Warranty | 1 Year |
| UPC Code | 713034081197 |
| Return period | 30 days |
| Exchange period | 30 days |