Audiovox HR7012 7 inch Headrest Entertainment System for 2013 - 2014 Acura ILX
Monitor features
7 inch high density LCD displays for excellent video quality
OEM styling, with physical buttons for quick control of monitor and DVD functions
Swivel screen for optimal viewing even when vehicle seat is not in an optimal position
Bright LED back-lite system for excellent color and day-time viewing
Dual Channel IR Headphone transmitter to broadcast audio to included wireless headphones (Add as many headphones as you would like)
Wireless FM modulator to broadcast audio to the speakers of your car by tuning the radio to the proper station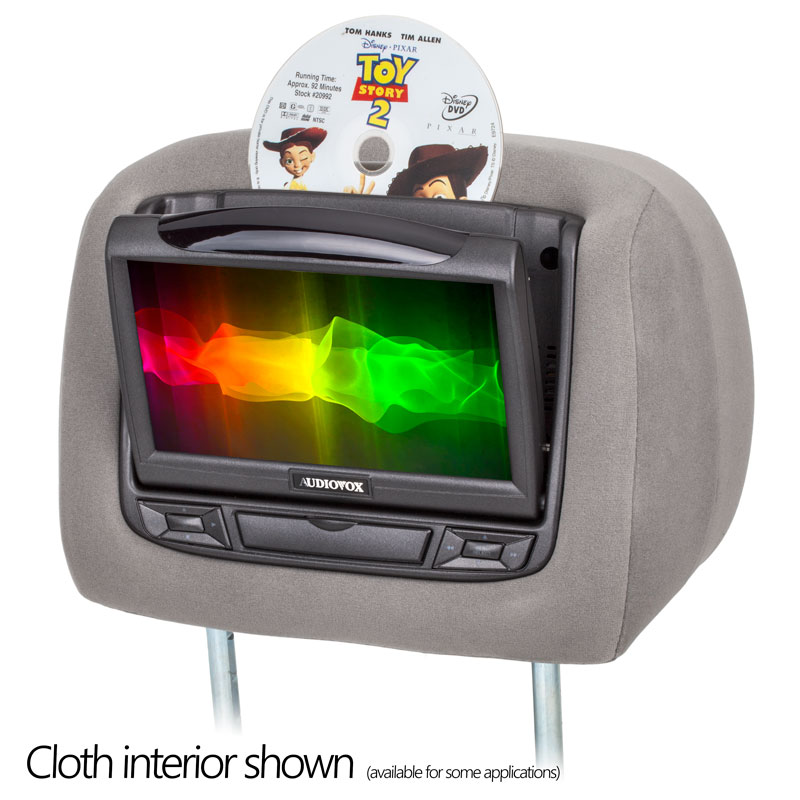 DVD features
Plays DVD, VCD, CD-RW, CD-R, DVD-R, DVD-RW, MP3, MPEG4, and JPEG
Region 1 DVD player
Electronic shock protection with built in buffer
Top slot-load design for easy disc insertion
Share DVD media between both screens, play one DVD on both screens.
USB input for stored media on Jump drive such as MP3's and MP4's. (HR7012MA only)
Front RCA Audio Video input for easy connection to media players and other devices. (HR7012MA and HR7012S only)
Wired headphone jack so you can use your favorite wired headphones. (HR7012S and HR7012MA)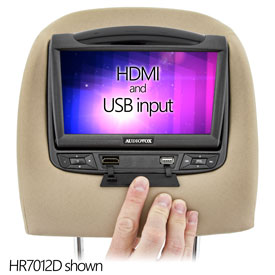 Optional individual HDMI inputs (HR7012D) HDMI source can be displayed on a single screen, it will also send the HDMI signal to other display.
USB input USB can be used as an input for stored media on Jump drive such as MP3's and MP4's or as a charging port for phones, tablets, Amazon Fire TV Stick, Roku, or Google Chromecast. (1 amp 5 volt USB power)
(Optional)

Additional HDMI Input or WiFi streaming
Additional Options:
Option 1: HDMI input Central HDMI input with flush mount dongle. Easily place the HDMI input where it is easy to connect additional sources such as a game system or your phone for streaming services.
Provides a third HDMI input for those that select front HDMI (Optional) and will provide a single HDMI input for monitor only systems.
Option 2: Wireless streaming Mirror your apps, music, and video's from your smartphone to each or both headrests. Supports Miracast, DLNA and AirPlay protocols for Apps, Audio and Video files. (See exclusions below)
Wireless Streaming Exclusions Not all apps or purchased media will allow wireless content streaming due to copyright protection and OS restrictions. (Most purchased media and Streaming video service Apps will not display)
OEM Matching
Upholstery features:
Headrests are factory color matched to your vehicles interior in cloth or leather upholstery (Does not match aftermarket leather interiors)
Leather and cloth matches in grain and texture
Matching color stitching and/or piping if vehicle is equipped with these options
Chrome hollow posts so all wiring is concealed within the seat
Central control box that both headrests connect to, box provides cross connections and provide video inputs and outputs
Independent lab crash safety tested and meet or exceed factory vehicle crash tests (Certificate is available)
(Optional)

Game System
Gaming features:
32-bit gaming system with excellent game play and graphics
Includes two wireless controllers for thrilling battles in the back seat
54 Built in games
Optional, can be added at the time of purchase or after
Inputs and Outputs:
1 - Audio Video outputs on control box
1 - RCA Audio Video input on control box (Standard system only)
2 - USB inputs (USB on each monitor)
2 - RCA Audio Video inputs (Standard system only - Jack on each monitor)
2 - 3.5mm wired headphone jack (Standard system only - Jack on each monitor)
1 - HDMI Video input on control box (Optional upgrade)
2 - HDMI inputs (Optional upgrade - HDMI on each monitor)
1 - Wired FM modulator output (Audiovox FMDIRB Wired FM modulator sold separately)
1 - Wireless FM modulator antenna output
2 - Headrest signal output cables
2 - Headrest power output cables
1 - MVGP1 Game system input
(2) 7 inch Headrests LCD's
(2) OEM Matching Headrests
(2) Remote controls
(2) Two-channel wireless channels
(4) Monitor extension cables
(1) Power Cable
(1) Control box
Special Order Note: Audiovox replacement headrests are made to order, build time is 1-2 business days, please allow time for assembly before shipping. Please select vehicle color carefully as these headrests are special order items and are not-returnable. Correctly ordered but non-matching headrests are exchanged with correctly matching headrests.